April 22nd, 2013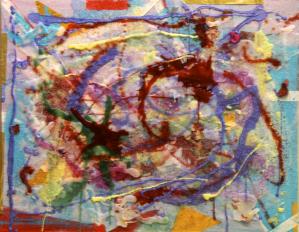 It seems these days I'm surrounded by hummingbirds. It started months ago after I bought a beautiful colored pencil piece from a local artists of a red tailed hummingbird. I looked up the significance of hummingbirds in terms of medicine and found this:

"Encourages one to take the appropriate risks that one feels guided to take without fearing that one will fall flat. Helps when resources appear to be exhausted, including financial resources. Opens up new channels for money and abundance to flow to you" - morningstar

This painting came at a turning point in my 27th ave series, it came when I hit "painter's block". While many artists reach this block, it felt bigger than a 120 ft white wall since this 27th ave series is the first series I've painted in 9 years. I hid my voice for those 9 years trying to be someone else, to fit into a mold that seemed safe. I took about 7 years for me to start waking up and almost 2 years since I was inspired to be myself again. This painting was done to celebrate this awakening and in gratitude to a fellow artist who inspired me through her writing, photography, and vision of the world.